R U OK? has launched a campaign to equip community coaches with resources and tips to ensure all members of their sporting community feel safe and supported.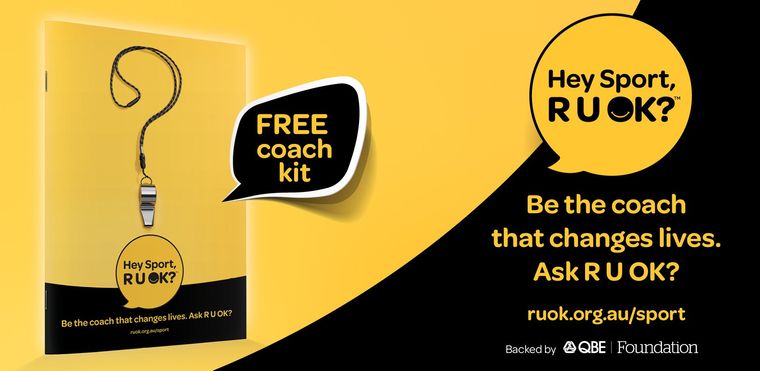 The 'Hey Sport, R U OK?' campaign is backed by QBE Foundation and promotes an R U OK? Culture of mutual respect, trust, authenticity and a shared willingness to support those in the grassroots sporting community who might be struggling.
CEO Katherine Newton says sport has a crucial role in the community.
"Sport can break down barriers, reduce stigma and provide a safe and inclusive environment where everyone can thrive but for that to happen everyone needs to play their part, none more so than coaches," said Ms Newton. "All the feedback and advice we have listened to points to coaches as having the most influential role in grass roots sport and the opportunity to change lives."
The 'Hey Sport, R U OK?' campaign provides resources to help coaches spot the signs that someone might be struggling and guides them through what to say and do in the event one of their athletes, players or sporting colleagues is not okay.
"We are sadly, too often contacted by sporting clubs and associations who want to host games or activities to honour members of their sporting community who have died by suicide," said Ms Newton. "This has highlighted a further need for a proactive preventative approach and has led us to develop the 'Hey Sport, R U OK?' campaign.
"The audience for these resources is significant as is the potential positive impact because sport talks to all age groups across economic, regional and cultural demographic markers."
The Australian Bureau Statistics estimates 5.2 million Australians aged 15 years and older are involved in organised sport and physical activity with 4.7 million in playing roles and 1.4 million in non-playing roles. Close to a million of those involved participated in both playing and non-playing roles.
Hockey veteran Rachael Lynch is a member of the R U OK? Sport Advisory Group involved in the development of the resources and says they will be an invaluable tool for coaches.
"It might not say it in the coaching manual but it's likely that at some stage every coach will be called on to be an 'accidental counsellor' and this campaign provides these simple, free and easy to adopt resources so clubs, teams and associations can proactively embed an R U OK? culture that encourages everyone involved to support each other both on and off the field," said Ms Lynch.
Ms Lynch has achieved much in elite sport. She is a Hockeyroo, Olympian, dual Commonwealth Games gold medallist and World Cup silver medallist. She has played in more than 220 games for Australia, but it is her progression through the ranks from junior sport, her coaching experience and her work as a registered nurse that drives her support of an R U OK? Culture.
"Off the field I'm very active promoting mental health awareness so I understand first-hand the potential of Hey Sport, R U OK? to benefit participants, officials, administrators and supporters across the grass roots sporting community," said Ms Lynch. "Building that culture isn't down to one person but coaches can certainly put the foundations in place."
QBE Foundation, Co-Chair, Jon Fox said they are proud to be major partners of R U OK? and the Hey Sport, R U OK? campaign. QBE has a long history of involvement with sport, partnering with leading sports teams in Australia for over 30 years.
"We have long-standing partnerships with sport organisations including Sydney Swans and NSW Swifts where we extend our support from elite athletes right through to Youth Academies that nurture the next generation. We recognise the importance of mental health awareness across all levels of the game and are delighted to back the Hey Sport, R U OK? campaign to support the broader sporting community," says Mr Fox.
"QBE will encourage our elite sport partners to share the resources throughout their clubs and promote the campaign at a grassroots level."
The Hey Sport, R U OK? resources are all available for free download and include a Conversation Guide for Coaches, ten principles of an R U OK? Culture, posters for display in sporting clubs and training facilities, tips on how to ask, "Are you OK?" and what to do next.
If you need guidance on how to support someone, visit ruok.org.au or if you need support or know someone who does, visit www.ruok.org.au/findhelp for professional support services and self-care tools.
Find out more information at https://www.ruok.org.au/sport